Powerful Vranac Barrique 2016
Introduction into the variety
Crmnica- the cradle of our dignified variety. The grapevine has been grown here for centuries.Terraced vineyards of this regio are only the beginning of the development of inventiveness of the creators of those times to start the story at the latitude of cc 400m, stretching from Bukovik to Brčeli, which we call today –Tradition. It is from Crmnica that Vranac has been spreading throughout Montenegro. The largest vineyard complex of the sunny region, grown by this variety, was established on Ćemovsko polje, where the winery 13.Jul-Plantaže has set ground for the identity of this variety. Nearly 70% of the grapevine plantations on the surface of over 2000 ha, have been covered with a prevailing Vranac.
Today, in its wide and different assortment and categories, like: classic, premium , ultra premium and selection, Plantaže has 8 different wines, where 8 different symphonies have been composed for the same orchestra. For this occasion, we have chosen a new one, just composed, sharing its tones with our audience.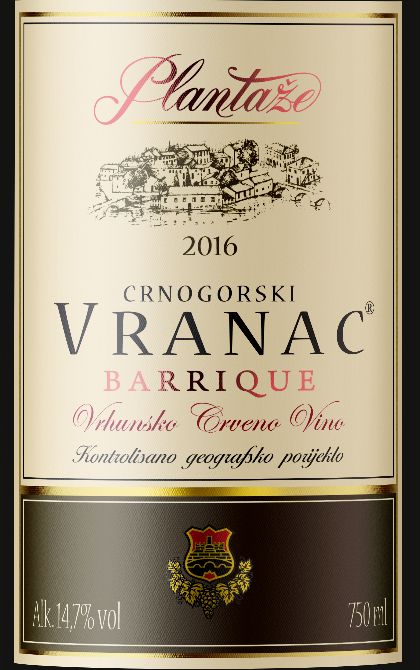 Vranac Barrique 2016
Witht he first touch of wine and a glass , the wine shows its youth, potential, luxury…. Vranac reflects its sublimity with the colour of ripe apricot, of high intensity with a thin water ring. It looks young, very young, eager to show off, ready to demonstrate its power and boldness.
Slow by appearance and the colour of the glass, filled with this wine, represnt the potential for anybody who holds a glass , filled with the premium wine , waiting to enjoy it.
Its opulent aromas are expressed after a few minutes of dormancy in the glass. Its varietal character conducts proudly the rich aromas of black and red fruits, mostly of black currants, blueberry and prunes that follow, not less intense, bur crispier notes of pomegranate, sour cherry, raspberry and rose hip. Secondary aromas of baked vanilla, sweet toffee and piquant cedarwood do not affect the identity of a grand wine.On the contrary, they have been integrated perfectly into a great orchestra which represents a song for the world festival of awards and medals, but we don't know it yet, it's to be tasted. Balanced, inspiring, luscious… Each new aroma reveals a new acord of Vranac, aged 80% in the French barrique and 20% in the American barrique for a year and after it, in the inox tanks and bottles.
Succulent, extracted and marvellous wine on taste. It allures with its full body, opulence, fleshiness. Aromas of closed and unpredicatble wine which is still young are only the attribute and plus to a predictable and young Vranac. Besides the fruit, spices and secondary aromas of the premium oak with dominant,retronasal notes of a toffee and toblerone, young tannins are struggling to show the potential of long aging in the bottle.
Full-bodied with mildly piquant and coarse texture for which the velvety tannins won out with long and creamy aftertaste where the malolactic fermentation played perfectly the role of the conductor of an orchestra.
Huge potential with 14.7% vol. and now, having aged in the barrique, tank and bottle for five years, Vranac Barrique 2016 needs a serious bite to match its performance. This wine itself may appear a bit selfish because it reminds of a sportsman at full power,who has just left the gym. Fatty and spicy dishes, made of red mears with different sauces as well as with rich roasts 'under sach', have been only a simple choice to match opulent Vranac. You may serve it with simpler, fish and meat bites, as well.
Vranac barrique 2016 –Vranac of high potential which should be decanted before serving.
Miroslav Radojčin, sommelier and consultant for education at Plantaže