Restaurant Jezero
Vranjina bb
Working hours
In winter period: 10- 18h
In summer period: 08-24h, spring-automne 09-21h
On the left bank of Lake Skadar, near the highway that connects the capital with the Montenegrin coast, in the heart of the national park, restaurant Jezero was opened in 2005. A terrace with a beautiful view, national dishes, wines of the region and fast and quality service are trademarks of this establishment.
Cuisine: Traditional Montenegrin cuisine
Restaurant Jezero offers an authentic menu, ranging from traditional Montenegrin breakfast to variety of dishes from fish and meat to wide range of desserts prepared using unique recipes. In this romantic ambience you can enjoy a wide selection of Plantaže's wines. The restaurant terrace can receive over 130 guests and on sunny, warm days it's the main attraction of the Lake Skadar. Restaurant overlooks island Lesendro Island, which is known in Montenegro as "wound of Njegoš".
---
Specialties: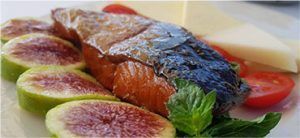 Marinated salmon trout
Marinated salmon trout from the pond of Plantaže is smoked and marinated following a traditional recipe and served with hard Montenegrin cheese. This dish is best paired with white wine LUČA from Plantaže's assortment.
---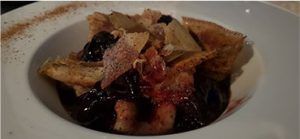 Pancakes with Vranac sauce
Pancakes with Vranac sauce are buckwheat pancakes topped with red wine Vranac sauce, served alongside with dried fruit.
---
Given the fact that the restaurant is located on the coast of Lake Skadar, we offer various fish specialties depending on the time of the year. Those are the "carp in the bells" – carp from the lake prepared in two ways (grilling or fried in oil), "grilled eel" or "carp in the pan". In the summer we offer a unique homemade ice cream with Pro Corde wine that contains 5% of alcohol, as well as Malvasia Muškaćela ice cream. All ice cream is without added sugar.
Welcome!
We wish you a pleasant stay in our restaurant, and don't forget that fish swims best in wine!