Plantaže wines – gold medal worthy wines
Montenegrin Plantaže continued the tradition of big achievements at the international wine competitions and evaluations, winning twelve medals for the quality at the 11th Balkans International Wine Competition (BIWC), one of the most prestigious competitions in the region which was held from the first of June to the 3rd of June at Salamina in Greece.
The wine Stari podrum Vranac 2013 was proclaimed the best wine from Montenegro (Best of Show) which, besides this title, won the gold medal for quality. Besides the wine Stari podrum, a new white wine Nota 2021, Malvazija 2021, Vranac Barrique 2018, Stari podrum Cuvee Terroir 2018 won gold medals. Silver medals were awarded to the wines Vranac pro Corde 2018, Vladika 2018 and Vranac Reserve 2019, while bronze medals were awarded to the following wines: premium Vranac 2019, Kratošija 2017 and Pro Anima Pinot Blanc 2021.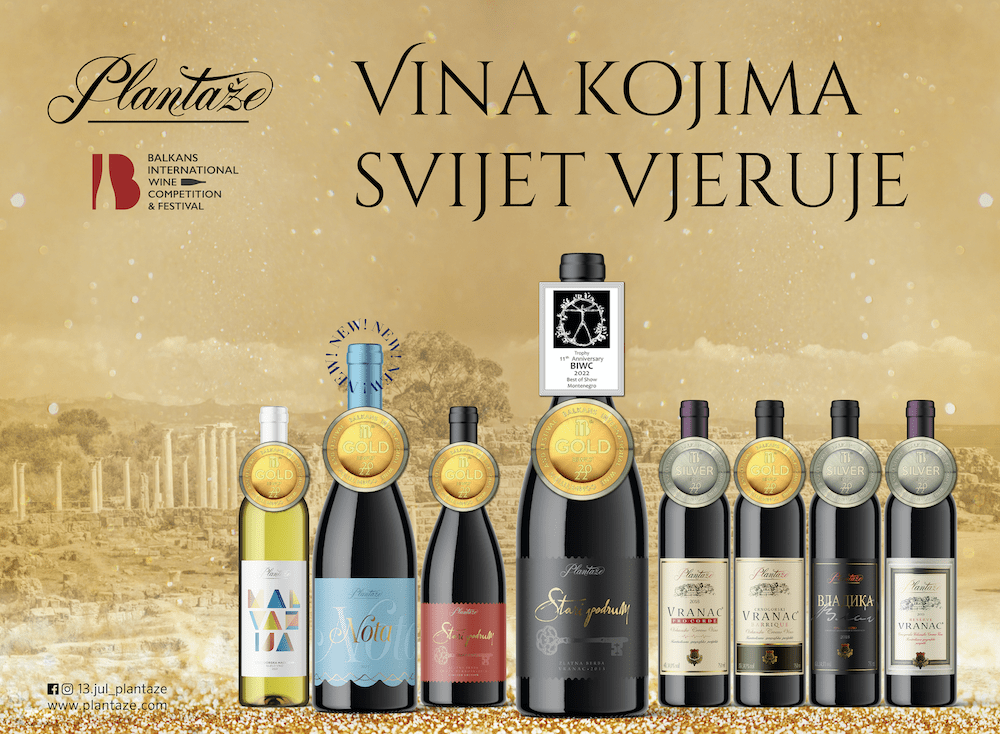 Besides regularly high marks for red wines and the best autochthonous Vranac from Ćemovsko polje terroir,Plantaže has been particularly proud of achievements which they have made recently at the international stage, for the category of white wines as the confirmation of the quality which meets the top world standards.

While Malvazija has proved its quality many times and won hearts of both the expert jury and true wine afficionados, new wine NOTA and before official introduction to the wine audience, won gold at its first competition BIWC , competing with 1000 wines and 280 wineries worldwide.

In 2022, besides the awards at the prestigious BIWC competition, Plantaže wines won also thirteen medals at the biggest world competitions, competing with the best world wines, ie eight medals in London (Decanter) and five medals in Germany (Mundus vini).
Mentioned awards have proved once again multidecadal achievement of the company Plantaže and unofficial title of the best winery in the Balkans.