Sarajevo in the Restaurant 13. Jul
Aiming to renovate and expand its gastronomic offer and provide the best gastro enological experiences to its guests and the atmosphere to be remembered, the restaurant 13.Jul has engaged one of the most famous and best Bosnian cooks and chefs, Nihad Mamemeledžija.
You are welcome within the period 18-22nd of August to enjoy the specialties, signed by this gastro maestro in the first and unique wine restaurant in Montenegro- restaurant 13.Jul-Plantaže.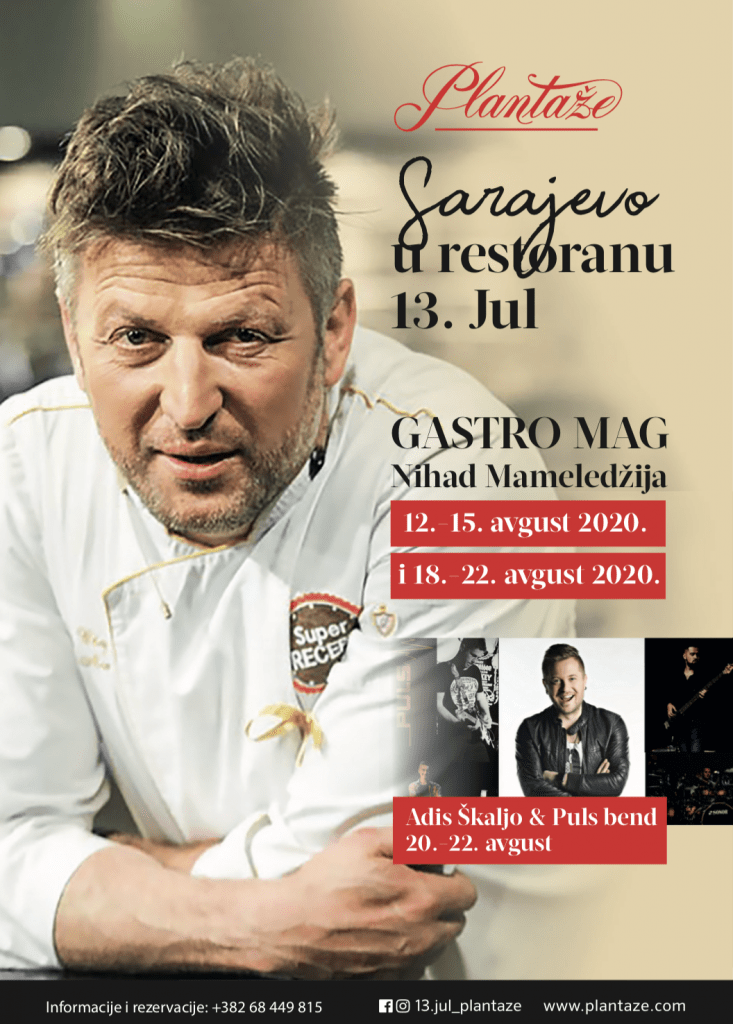 Nihad Mameledžija is one of the most famous and best Bosnian cooks and chefs, TV personality and the author of many books on gastronomy. As a long-term associate of the famous Italian chef Gianluca Temassi , this gastro master has worked in many exclusive restaurants worldwide as well as in numerous hotels in Bosnia, such as: Marriot in Mostar and exclusive Swissotel hotel in Sarajevo.
He has been the chef de cuisine for ten years in the Italian Embassy in Sarajevo and he has also worked in the USA Embassy. He is one of the founders of Chef Association of Bosnia and Herzegovina.
He has been considered one of the best chefs in Bosnia and over it, as well. He shares and lives the philosophy of the Japanese cuisine and it is: transparency, openess and confidence and he sees passion and love as the basic spices for the preparation of each dish. He claims that he could not make a good dish without them!
Enjoy perfect specialties, paired with the premium wines, made by Plantaže.
We create for You the tastes to be remembered with the songs and authentic sounds from Sarajevo.
A famous regional band Adis Škaljo &Puls band will play music at the restaurant 13.Jul from 20th-22nd of August, every evening from 21 hrs.
Engaging Nihad Mameledžija and musical band Almir M& Tribune band from Sarajevo, we begin to engage the best regional chefs and gastro masters, providing the opportunity to our guests to taste the specialties, prepared by the best chefs of the region , in our country. Numerous surprises will expect you in the following period!
Welcome to the new world of wine and gastronomy!